ADVANTAGES
Easy to use.
Clear digital results.
Reads results for you.
HomeTest digital ovulation tests are an innovative, fast, easy and accurate way to detect your 2 most fertile days of your cycle. The unique dual detection technology of HomeTest digital tests helps you find your fertile days and get pregnant easily. This is a useful test which detects the increase in the LH hormone in combination with the increase in the FSH - both pituitary hormones - and therefore predict your ovulation. The digital test gives an immediate result marked "NO-" for hormone non-peak and "YES +" for hormone peak. The increase in LH precedes ovulation and activates it within 24-48 hours. FSH follows LH, as shown in the diagram. After ovulation, the egg can survive for about 12 hours after being released, with the sperm surviving a few days inside the body.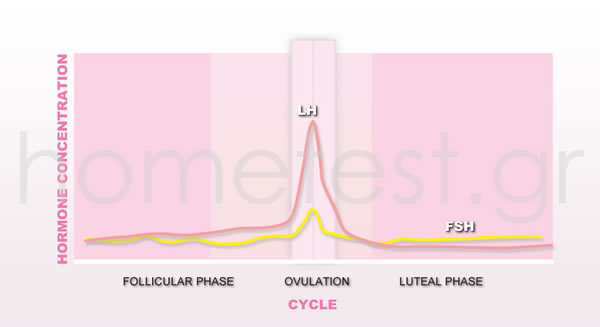 Thus, the HomeTest digital ovulation tests can help predict the two most fertile days following the detection of the 2 hormones. If sexual intercourse is made within those days, you will increase your chances of getting pregnant.
To use the digital HomeTest ovulation tests, you need the digital reader (multi-purpose) and the disposable stick. All these are included in the package. You click the stick on the digital reader and within minutes you get a clear digital result.
Order Assistant: This specific package contains 10 sticks and 1 digital reader. If your cycle does not flauctuate at all or it fluctuates by 1-2 days, then this package will last you for 3-4 cycles.
To calculate your fertile days, please feel free to use our online fertility calendar by clicking here.
Have in mind that, like all similar calendars, it relies on mathematical calculations and you should use it only as a general guide and only if your cycle does not fluctuate.
If your cycle fluctuates, it means that your ovulation day is not steady in the cycle and therefore you necessarily need to use ovulation tests to find your fertile day.